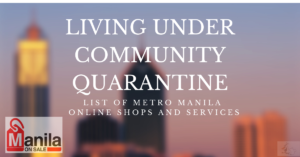 Open Animal Clinics Amidst Enhanced Community Quarantine
For furparents, it's more worrisome these days that our neighborhood vet clinics and pet store have closed shop due to the enhanced community quarantine. Thankfully, there are still clinics that are open for APPOINTMENT AND EMERGENCY CASES. Check out the list below and best to contact them ahead of time before visiting. Note that some vet clinics also have a pet store that sell pet food, treats and whatnot.
List of Vet Clinics open for appointment and emergency cases:
Updated as of March 26, 2020
Join our Telegram Community

NCR
1. Animal Shelter Vet Clinic
1376 Mercedes Ave, Pasig City
Clinic hours: 9am to 5pm
09198289251
2. Animal Shelter Vet Clinic
Brgy Tuktukan, Taguig City
Clinic hours: 9am to 5pm
09198289251
3. Sorsogon Vet Clinic- Garcia
Garcia St, Sorsogon
Clinic hours: 9am to 5pm
09198289251
4. Sorsogon Vet Clinic- Balogos
Balogos St, Sorsogon
5. Santa Ana Animal Health Clinic
2259 Calderon St, Sta Ana Manila
Clinic hours: 9am-2pm daily
8241-7224
6. Jose Abad Santos Vet Clinic
1938 Jose Abad Santos Ave, Manila
By appointment/emergency only
0917-5521069/ 02-87880259
7. Pet Society Comfort & Care Veterinary Clinic
50 Villa Ortigas II, Granada St., Brgy.Valencia, Quezon City
9am-5pm (emergency & critical cases only, scheduled puppy/kitten vaccination via appointment)
09276508282/72163115
8. PasigLine Animal Clinic
#21 CLP Bldg, Mercedes Ave, San Miguel, Pasig City (Beside BDO)
Landline: 642-1502
Cp#?0915-545-8490/
0915-371-9261
Clinic Hours:
9:00 a.m. – 5:00 pm
Monday -Sunday
9. Metro Paws Pet Clinic
P3-11 Manlunas Street, Villamor Airbase Pasay City
8am to 6pm
0279195372
10. Petlink Wellness Center & Veterinary Clinic
Caloocan: 173 West, Macario Asistio Ave, Caloocan City (24hrs)
09054711129/09087209863
Malabon: 4-E Victoneta Ave, Potrero, Malabon (9am-7pm)
09560856119/09293275030
11. Vets on the Block Pet Clinic
10 Hyacinth Street
Roxas District, Quezon City
10 am to 5 pm
Strictly by Appointment only
09185400984
02- 34148428
12. Pet Starz Wellness Clinic
J.P Rizal, Makati City
10am to 6pm (please call before coming)
Globe: 0915-0558-805
Smart: 09198020558
Landline: 8776-7048
13. VET 911 ANIMAL CLINIC
Unit 203, #51 Shorthorn st. brgy. Bahay Toro, Quezon City
Monday-Sunday (except Weds)
9am- 6pm
Our contact numbers are as follows:
09326184116
09358115516
73731062
14. PetVet Jr. Animal Clinic & Grooming Center
490 Quirino Avenue Talipapa Novaliches Quezon City
Open Daily: 9am til 6pm
0933 8101881
02 7905 7343
15. PETVET ANIMAL HEALTH CLINIC AND GROOMING CENTER
2nd Floor Nova Square Shopping Center, Quirino Hiway cor P. dela Cruz Street, San Batolome, Quezon City.
Opens: Monday to Sunday, 930am to 6pm
Tel No.: (02)83325488; 09431427906
16. ManilaVets Animal Clinic
683 Manga Avenue corner Mindanao St. Sampaloc Manila
8am – 6pm (strictly for emergency cases only or by appointment)
Cp# 09151942009
Landline # 7746-9054
17. Pet Saloon Animal Clinic,Gen.T.de Leon
Valenzuela City
09669161011or 7956 63 09
18. Greenwoods Pet Hospital
Facebook/Greenwoods Pet Hospital
19. Healthy Prints Veterinary Services
B20 L14 San Gregorio St., Golden Acres, ("Grandeur") Marcos Alvarez Extension, Talon V, Las Pinas City
09063514802
Monday to Sunday
9am to 5pm
20. May Rulibeth L Javier Pet Lovers Animal Clinic and Emergency Services ( PLACES) / Doc May Pet Wellness Center
76 visayas ave brgy vasra qc 0917 8316826/ 89247118 office hr 8 am to 5 pm everyday.
Vets at work
Unit B/F Divino Amore BLDG, # 8 Holy Spirit Drive, Don Antonio Heights,QC
in front of Dominos pizza near security bank
office hours 10 am-5 pm Mon-sat only.
09209739069
21. Pet Saloon Animal Clinic
2029 A. SANTOS SUBDIVISION,GEN. T. DE LEON,VALENZUELA CITY CP NO.09669161011(open 9am up to 7m)
22. DMV PAGAMUTANG PANGHAYOP
3147 F Bautista street, Ugong, Valenzuela City
09060254055/ 091777779715/ 76184153
Clinic hours 9am to 5pm
Accepts home services appointment (depends still upon location)
23. Angeles Pet Care -Sucat Branch
Unit 27 and 28 Park and Shop 8300 Dr.A Santos Avenue Barangay BF Homes Paranaque City
Clinic hours
Monday to Sunday 8am to 5pm
09230211354; 09151679739
[email protected]
24. Vetermedics animal clinic
rainbow st.corner sierra madre st.hacienda HTS.Mona CTY.
Marikina City
09158054543…..near plmar new campus
25. Pet House Pet Clinic
MAGINHAWA
131-B V. Luna Rd. Ext. Sikatuna Village, Quezon City
Landline: 3436-1906
7255-5077
7587-3092
Smart: (0939)902-5701
Globe: (0917)652-2589
TIMOG
36-D Sct. Limbaga St., Laging Handa, Quezon City
Landline: 7621-8387
Smart: (0947)899-6403
KATIPUNAN
15 Esteban Abada St. Builtmor Tower Loyola Heights, Quezon City
Landline: 3434-0032
7917-2522
Smart: (0939)902-5702
26. Dr. Love PET Clinic
#88 Road 1, CORNER ROAD 33, PROJECT 6 Quezon City
Tel. & CP. No. 09157005442 | 09177367761 | 72553407
Clinic Hours 9AM-9PM
SOUTH LUZON
1. Seven Lakes Veterinary Clinic
Colago Ave. San Pablo Laguna (across Puregold Sambat and next to Isuzu)
Clinic hrs: 9:00-4:00 pm. Emergency cases are accommodated
Tel. 09178172043
0495496071
09228217981
2. Whitewoods Animal Clinic
Brgy putingkahoy silang cavite
9am-5pm
Contact no. 09332261285
09066815783
3. Pet Family Animal Clinic and Grooming Center
B4 L6B Greenvillas 2 Brgy Buhay na Tubig Imus Cavite
Contact : 09062921197
0464186235
Clinic hours:
Monday – Saturday 8am-6pm
Sunday 8am-5pm
4. FMS Veterinary Clinic
6658 National Road,San Antonio,Los Banos,Laguna
CP #09062334489
9am to 2pm Mon to Fri
9am to 2pm,4pm to 7pm Sat, 10 am to 5pm Sun
5. Pajares animal clinic
17 hi way platero
Binan Laguna
Monday-Saturday 8am-12noon
09989724121
6. Dog Central Veterinary Clinic & Grooming
Bgy Halang Calamba City
0932 849 5981
By Appointment
7. Dog Central Veterinary Clinic & Grooming
225 Barangay San Juan
Tel 0932 849 5981
By appointment
8. Petrio Veterinary Clinic and Grooming Center
2nd Floor, YAMC Bldg., Brgy. Sahud Ulan, Tanza, Cavite
Monday to Saturday 9 AM to 4 PM (except Thursday), Sunday 1-5 PM
+63 956 041 5413
+63 9335974741
9. P-bee Snoopy and Buddy Veterinary Clinic
H. Ame St. and P. Montoya St. San Vicente 2 Silang, Cavite
Mondays to Saturdays
9am to 6pm
09958128176
09185731725
10. Happy Barn Animal Clinic & LA Pet Health and Wellness Shoppe
168 Bonifacio St., Brgy. 4 Poblacion 4, corner Regidor St. Sta. Cruz, Laguna
(Beside DBP bank)
Clinic hours: 8am-5pm Mon- Sat; 9am-12nn Sun
Accepts emergency cases/ surgery
Home service by Appointment
Tel. No. 049- 5764540
Cp. No. 09298379868
11. Doc F Veterinary Clinic
Pamplona bldg., Gen Ocampo st., Poblacion, LIBMANAN, CAMARINES Sur
Mon to Saturday – 9 am to 3 PM
Sunday- 9 AM to 11 am (EMERGENCY cases and puppy vaccination only)
Contact 09193796937 (smart/tnt/sun) 09066213027 (globe/tm)
12. Pawsitively Purrfect
Animal Health & Grooming Center
PitStop Bldg B, Kapitan Simeon Luz St., Brgy 6, Lipa City
First aid cases/appointments
Message Fb Page (name of our clinic)
+639175556851
(0955) 710 3717
13. Pet Wonders Veterinary Clinic (Main)
Old National Highway Nueva San Pedro, Laguna
Mon-Fri (9am to 5pm) or until further notice
ALL SCHEDULES ARE FOR APPOINTMENT NO WALK-INS
+632 85533196 +632 72141989
+639175117982
14. Pet Wonders Veterinary Clinic (Rosario)
Rosario Ave. San Vicente San Pedro, Laguna
Mon-Fri (9am-5pm) or until further notice.
ALL SCHEDULES ARE FOR APPOINTMENT NO WALK-INS
+632 79507155
+639171466789
15. VILLAGE VET ANIMAL CLINIC AND GROOMING CENTER
Unit D Scandia Suites 2 South Forbes Inchican, Silang, Cavite (near Solenad Nuvali and Paseo de Sta Rosa, Laguna)
Mon-Fri: 9am-4pm or until further notice
Sun: 9am-2pm
*STRICTLY BY APPOINTMENT ONLY*
Globe: 09058740422
Smart: 09493495943
Landline: 0495445939
FB page: Village Vet Animal Clinic and Grooming Center
16. Wags & Whiskers Veterinary Clinic
216 Aguinaldo Hwy Biga 2 Silang Cavite
09171535859/09395244249
Mon-Sat 9 am-4pm
Emergencies only
Call first for appointments
17. Pawssentials Pet Clinic
51 D5J's Bldg., Don P. Campos Ave., Zone 2, City of Dasmariñas, Cavite
Open daily: 9am to 5pm
0921 434 0608
NORTH LUZON
1. Pets.Com Animal Clinic
Dr.Rudolph Angelo "Doc Bing" David Encarnacion
Rocka Avenue, Rocka Village II Tabang,Plaridel,Bulacan
Emergency and By Appointment for now a
09156798140 and 0932-9278407 Or 0943-0964409 or 044-7972211
2. Chat and chiens vet clinic
156 DRT highway, longos, pulilan, bulacan
09328659569
Open 9am to 5pm
3. TWENTY FIRST VETERINARY CLINIC.
Malhacan Road, Meycauayan City Bulacan (near China Bank)
Mon- Sat : 8am – 5pm Sun : 1pm- 5pm
09237129884/09776383380
4. R and G Vet Clinic
Poblacion Pulilan Bulacan
9 to 5pm
Mon to Sat only
5. Animal Life Clinic and Supply
Amado St. Dagupan City , Pangasinan is open 9:00 AM- 4PM
Contact no: 075-623-1327
Cp. 09209454468
6. SVC Animal Clinic and Grooming Center
0125 Capitol blvd. G/F Unit B VVD bldg. Brgy. Sto. Niño, City of San Fernando, Pampanga
Contact number: 09487200055
Clinic hours: 8am to 12nn
7. Angeles Pet Care
Vivape Center lot 2 Block 6 Mcarthur Hiway Brgy. Camachiles Dau,Mabalacat Pampanga.
Contact details: (045) 649-4258; 0933-862-7982 and 0917-625-2641
VISAYAS
MINDANAO
1. Iligan Dog and Cat Doctor Animal Clinical Center
17 Fortaleza Street, Poblacion, Iligan City 09178505424, 09228880994, 063 221-7572
Clinic hours: 9am-12nn, 1pm-4pm Monday – Sunday
2. CDO Pet Doctor
09177942319
MAIN BRANCH-APITONG ST.CROSSING MACANHAN
MACANDIG BRANCH-TOMAS SACO ST NEAR CORPIS CRISTI.SCHOOL
NHA KAUSWAGAN BRANCH-Nha phase 1
8:30am-5pm monday thru sat
3. The Ark Veterinary Clinic
Doors 1 and 2 JDS Building, Jacinto Extension, Davao City
10am to 3pm (non-emergencies and emergencies; 24/7 on call for emergencies)
09228215121, (082)2867483
4. Animalandia Vet Clinic
Door 1 Onda Bldg., Casisang, Malaybalay City
09177003798
8:30-5:30pm monday thru sat
5. Fedmerc Vet Clinic & Supply
1F ESM Bldg., San Isidro St
Malaybalay City
09177003798
8:30-5:30pm monday thru sat
6. Animal Lover's Lane Vet Clinic
Aglayan, Malaybalay City
09177003798
8:30-5:30pm monday thru sat
7. Pet Purrfect Animal Clinic
You We Tong Bldg,
Gusa,Cagayan de Oro City
10:30am – 5pm
0917-709-2185
(088) 323-4636
8. Furpet'sale Veterinary Clinic
LMC bldng, 008 V. Sheker st.
Bagong Silang, Iligan City
Mon-sat 9am-1pm until further notice
Pls call before coming
09171050446
9. Vets for Pets Veterinary Clinic
Zone 3 Upper Bulua, Cagayan de Oro
Friday to Monday 10am to 4pm.
09177721077
10. Casas Jamis Veterinary Clinic
Cagayan de Oro
Lapasan branch – 856-2256/ 09178867343
Mastersons branch – 851-2256/ 09177266385
Carmen branch- 858-6695/ 09177266022
Agusan branch- 855-1758/ 09175873898
11. Petvet Central Clinic 🐾
Cagayan de Oro City, Misamis Oriental
Masterson (Main Branch) -09162359535
Barra – 09275698880
Gusa – 09664429800
12. Alrae Veterinary Clinic
Maramag, Bukidnon
Monday – Saturday
9am – 5pm By appointment only, strictly no walk-ins
09177180397
13. Pet Whiskers Animal Clinic
Zone 12, Poblacion, Tagoloan, Misamis Oriental
Monday-Sunday 9 AM -4:30 PM
09453802818
List Courtesy of Philippine Veterinary Medical Association
https://www.facebook.com/PVMA-Philippine-Veterinary-Medical-Association-273468822719326/
For other COVID-19 and community quarantine related articles, you may check the following:
https://www.manilaonsale.com/2020/03/bayanihan-musikahan-free-opm-online-gigs/
https://www.manilaonsale.com/2020/03/ebe-dancel-holds-free-online-concert/
https://www.manilaonsale.com/2020/03/25354/
https://www.manilaonsale.com/2020/03/big-companies-send-help-to-combat-covid-19/
https://www.manilaonsale.com/2020/03/these-companies-implemented-payment-extensions-in-light-of-covid19/
https://www.manilaonsale.com/2020/03/enhanced-quarantine-phone-numbers-to-call-when-youre-hungry/
https://www.manilaonsale.com/2020/03/community-quarantine-are-malls-open-in-metro-manila/
https://www.manilaonsale.com/2020/03/sana-oil-fuel-price-rollback-amid-covid-19-march-2020/
https://www.manilaonsale.com/2020/03/a-guide-to-living-under-metro-manila-community-quarantine/
Get Updates via Email – CLICK HERE
Here's Php100 for you when you shop/book at Lazada, Agoda, airbnb, Zalora, etc: http://bit.ly/2J5PTGv
https://www.facebook.com/manilaonsale
https://www.twitter.com/manilaonsale
All photos and text courtesy of the brand's social media pages unless stated otherwise.
Like This Post? Share it with your friends!
Join our Viber Community!