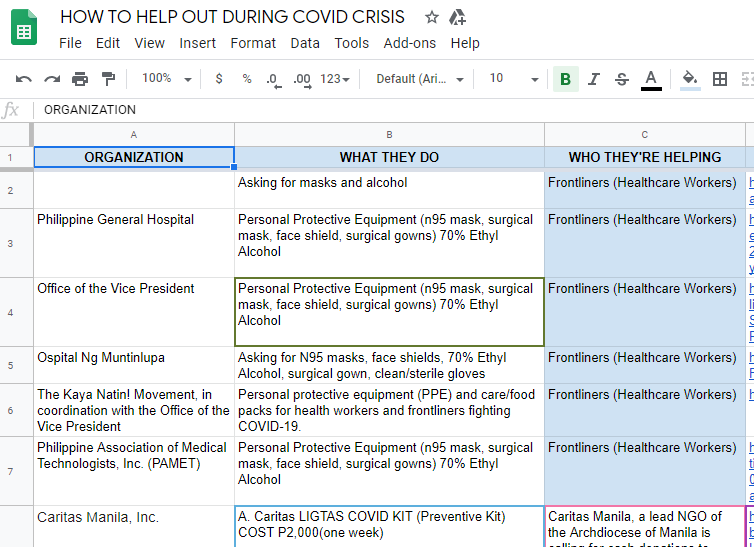 Donate to Frontliners and More Without Leaving Your House
Thanks to online banking solutions, you can donate to several groups who are raising funds to help front liners, displaced workers, service personnel, and families who badly need help. With just a few taps on your smartphone, you can feed people, pay for testing kits, and give alcohols and face masks. We must say, this is Bayanihan 2.0.
Here's the directory of groups that are humbly asking for our help:
HOW TO HELP OUT DURING COVID CRISIS SPREADSHEET
Join our Telegram Community

Take Note of House Rules:
"This tracker is meant to organize information and help people find ways to help out. Since we can't control what's going to be shared here, please exert due diligence by checking the credibility of the organizations/groups/people where you'll be donating your hardearned money to Their contact details and links are provided so please go ahead and call or message them before and after you donate."
Let us all help in flattening the curve. Thank you very much!
For other COVID-19 and community quarantine related articles, you may check the following:
Big Companies Send Help to Combat COVID-19 – https://www.manilaonsale.com/2020/03/big-companies-send-help-to-combat-covid-19/
These Companies Implemented Payment Extensions in Light of COVID19 – https://www.manilaonsale.com/2020/03/these-companies-implemented-payment-extensions-in-light-of-covid19/
Enhanced Quarantine: Phone Numbers to Call When You're Hungry https://www.manilaonsale.com/2020/03/enhanced-quarantine-phone-numbers-to-call-when-youre-hungry/
Community Quarantine: Are malls open in Metro Manila? – https://www.manilaonsale.com/2020/03/community-quarantine-are-malls-open-in-metro-manila/
Sana Oil: Fuel Price Rollback amid Covid-19 March 2020 – https://www.manilaonsale.com/2020/03/sana-oil-fuel-price-rollback-amid-covid-19-march-2020/
A Guide to Living Under Metro Manila Community Quarantine https://www.manilaonsale.com/2020/03/a-guide-to-living-under-metro-manila-community-quarantine/
Get Updates via Email – CLICK HERE
Here's Php100 for you when you shop/book at Lazada, Agoda, airbnb, Zalora, etc: http://bit.ly/2J5PTGv
https://www.facebook.com/manilaonsale
https://www.twitter.com/manilaonsale
All photos and text courtesy of the brand's social media pages unless stated otherwise.
Like This Post? Share it with your friends!
Join our Viber Community!