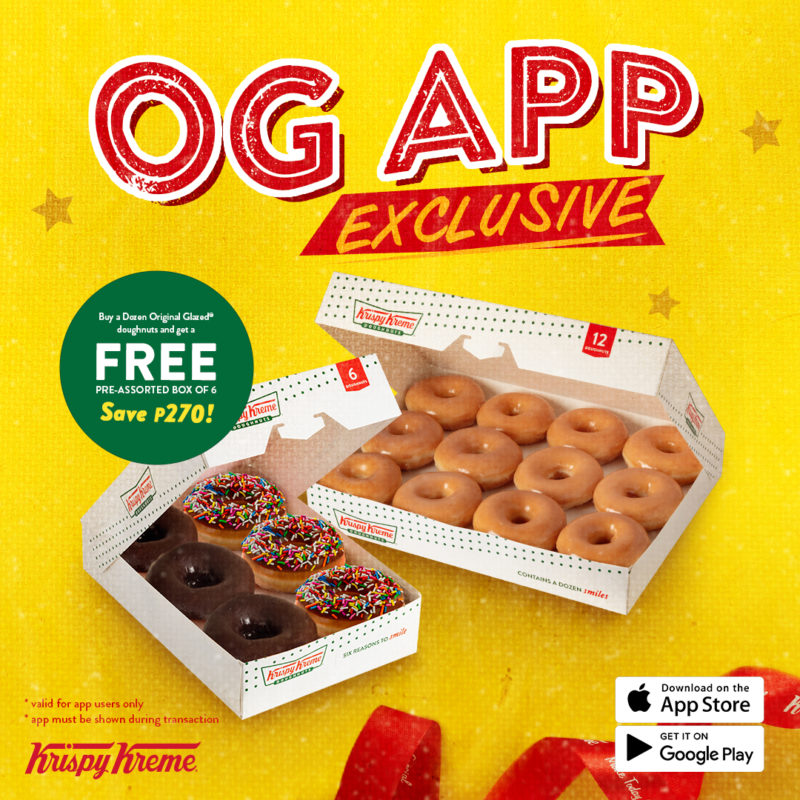 Mondays are made more fun with OG Card App Exclusive! Get a free Box of 6 Pre-Assorted Doughnuts when you buy a Dozen Original Glazed® Doughnuts on all Mondays of December. Save P270!
Krispy Kreme – OG Card App Exclusive Promo
December 6, 13, 20 and 27, 2021
Krispy Kreme App
[addcalendar]
Join our Telegram Community

Promo Mechanics:
* Free Pre-Assorted Box of 6 includes: 3 pcs. Chocolate Iced Sprinkles and 3 pcs. Dark Chocolate Glaze
* Valid on December 6, 13, 20 and 27 only
* Valid for OG Card App users only
* Terms and conditions for OG Card still apply. http://bit.ly/kkOGCard
* Offer is not valid with other promotions and discounts.
* Valid in all operational Krispy Kreme stores except airport stores, Makati Medical Center, SM MOA Area, supermarket sites and temporary selling booths.
Download the app:
🍩 iOS: https://bit.ly/KrispyKremeOGAppOniOS
🍩 Android: https://bit.ly/KrispyKremeOGAppOnAndroid
[addfooter]