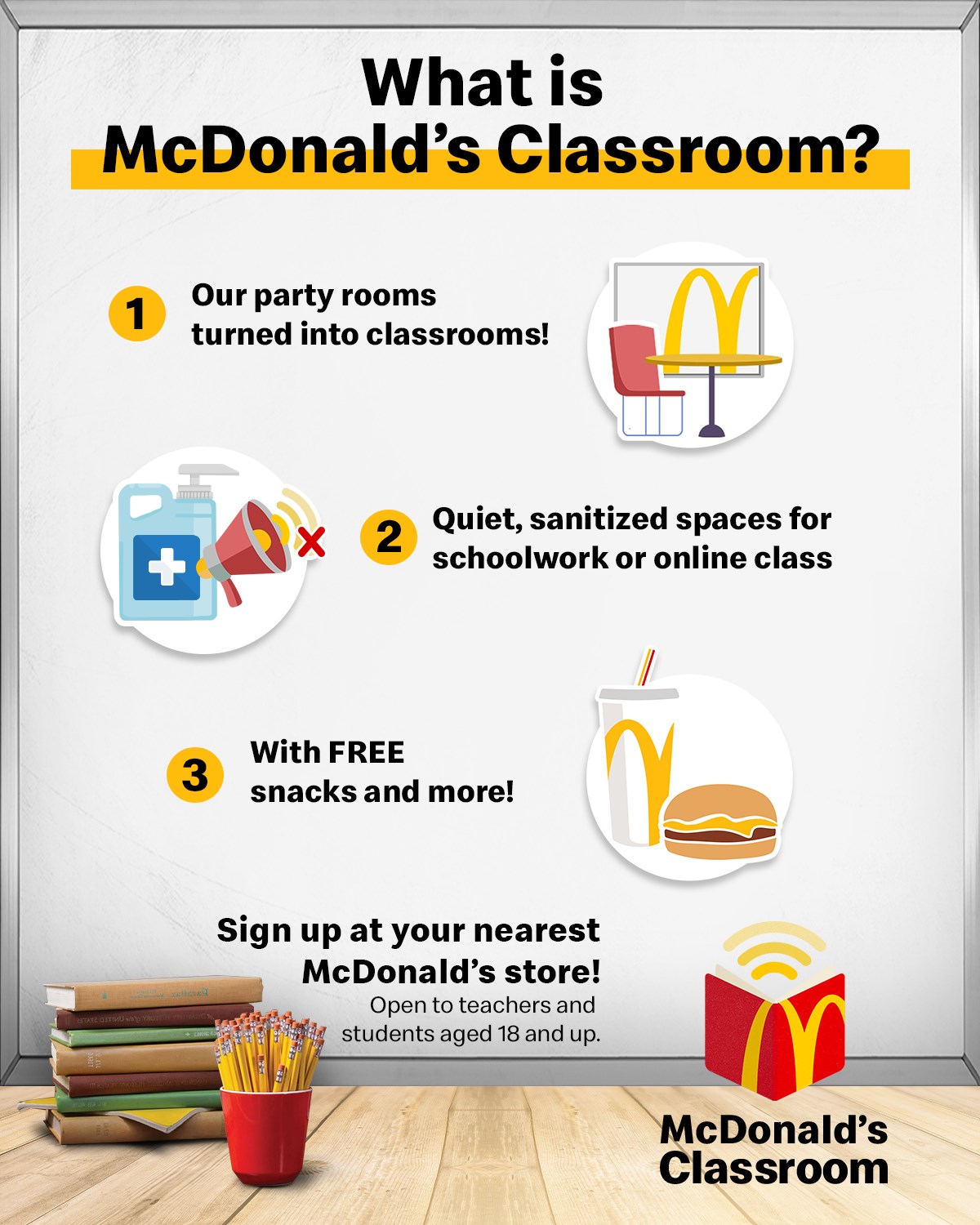 Need a quiet, clean space to do schoolwork, or connect to your online class? McDonald's Classroom is here for you. McDonald's is offering their unused party rooms to become virtual learning classrooms for teachers, as well as for students 18 and up. Sign up at your nearest McDonald's store to book a slot!
Mechanics:
To use our McDonald's Classroom, interested attendees must visit participating stores and pre-register for a slot from October 5 until October 15, 2021
Teachers and students who wish to avail of this free service need to reserve a slot by visiting any participating McDonald's stores.

Teachers are required to present a valid teacher's ID or PRC ID for verification in order to reserve a McDonald's Classroom slot.
Student must present a valid ID and/or school ID to confirm that he/she is 18yrs old and above
All attendees are required to present a valid vaccination card – confirming that the attendee is fully vaccinated

Attendees may choose between two (2) slots to use the McDonald's Classroom

from 8:00AM to 12:00NN; and
from 1:00PM to 5:00PM
McDonald's Classroom timeslots will be available for October 11 – November 5, 2021
McDonald's Classroom is open on weekdays (Monday-Friday) only

A maximum of two (2) teachers and/or students are allowed inside the party area, per timeslot, per store.
Walk-ins will be allowed provided that there are still available slots. McDonald's prefers for teachers/students to have prior reservations.
McDonald's will provide the co-working space, free meals (may vary per timeslot), other freebies (may vary per store), virtual backgrounds and Internet Connection via Wifi for select stores
Physical distancing will be observed inside the McDonald's Classroom at all times.
Attendees must follow health safety protocols by wearing of face mask and face shield inside the store
Visit www.mcdonalds.com.ph/mcdoclassroom to find branches with a McDonald's Classroom.
Join our Telegram Community

[addfooter]