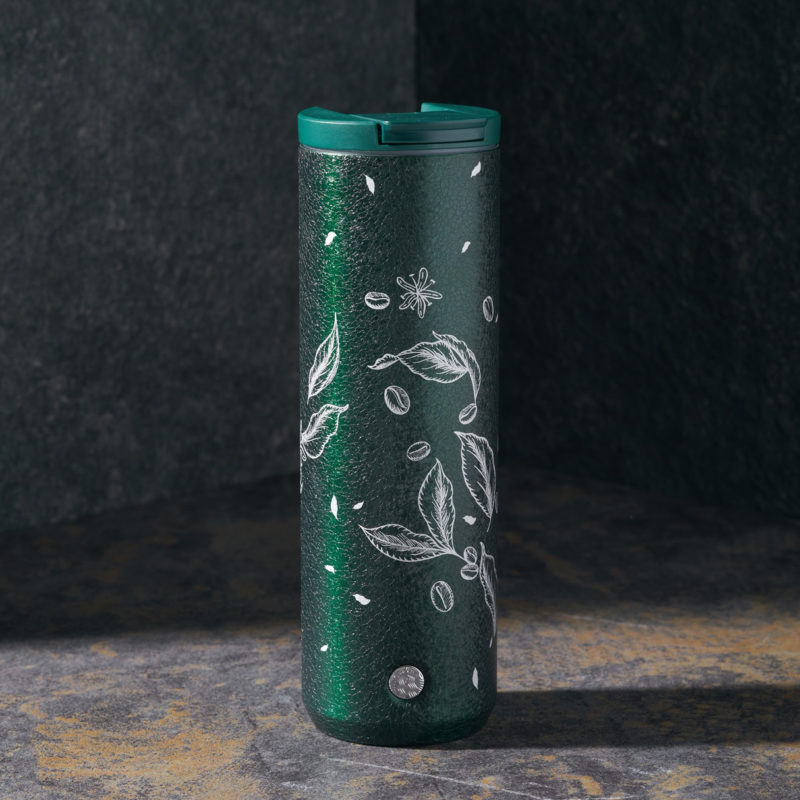 Check out the newest Starbucks Coffee & Tea 16oz. stainless steel tumbler comes in a sleek green color featuring a classic coffee leaves and beans artwork. This Philippine-exclusive tumbler includes twenty (20) complimentary Tall handcrafted beverage vouchers.
Starbucks – Coffee & Tea Stainless Steel Tumbler Promo
August 31 to September 30
Available in all stores for a limited time only
Promo Mechanics:
1. Every purchase of Green Coffee & Tea Tumbler (₱2,095) comes with twenty (20) complimentary tall handcrafted beverage vouchers.
2. Voucher is valid for the following beverages in Tall size only:
• Hot or Iced Full–Leaf Teas (Golden Monkey, Zen Clouds Oolong, English Breakfast, Youthberry, Emperor's Cloud and Mist, Hibiscus, Chamomile and Mint Blend)
• Tea Lattes (English Breakfast Tea Latte, Iced Golden Monkey Tea Latte)
• Iced Shaken Teas (Zen Clouds Oolong, Golden Monkey; Iced Shaken Hibiscus Tea w/ Pomegranate Pearls, Iced Shaken Golden Monkey w/ Ruby Grapefruit & Honey)
• Brewed Coffee (Hot Brewed Coffee, Cold Brew, Nitro Cold Brew, Caffe Americano, Cold Foam Iced Espresso)
3. No other Starbucks beverages outside of what was specified are eligible in this promotion.
4. Voucher must be surrendered to avail of the offer. Presenting the Coffee & Tea Tumbler upon redemption is not required.
5. There is no limit on beverage voucher redemption, per day.
6. Redeemed beverages will be served in to-go cups only.
7. Customers may opt to add inclusions (i.e syrups, milk options) and upsize their complimentary beverage up to Venti size. Subject to additional charge.
8. Offer cannot be combined with other offers or promos. No cash value. Not valid if reproduced.
9. Selling period of the Green Coffee & Tea Tumbler is from August 31 to September 30, 2021.
10. Redemption of beverage vouchers is from August 31 to November 30, 2021.
11. Government mandated discounts, RGOC and RCOC discounts CANNOT be used in the purchase of the Green Coffee & Tea Tumbler.
12. The following transactions and discounts are qualified for the additional transactions made with the beverage vouchers under this promotion:
a. Senior Citizen discount
b. PWD discount
c. VAT Exempt
d. Medal of Valor
e. Solo Parent discount (Quezon City)
f. Pink Card (Tagaytay City)
g. Philippine Sports discount
h. Personal Cup / Tumbler ₱5 discount
– Customers are still entitled to the cup discount when they present their personal tumbler. The redeemed beverage will still be served in to-go cups.
13. Offer is valid in all Starbucks Philippines branches.
Join our Telegram Community

See more details here: https://www.starbucks.ph/coffeehouse/promotions
[addfooter]