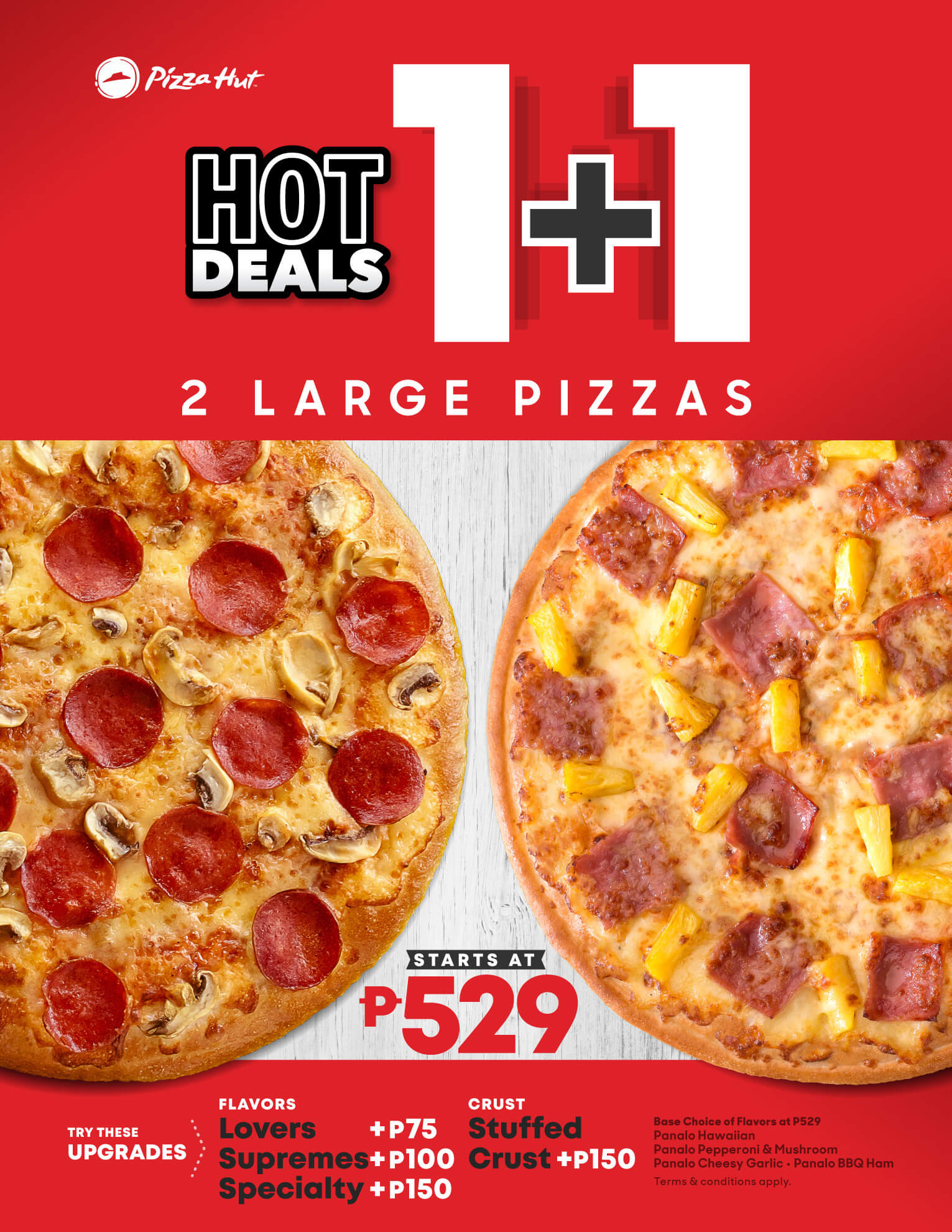 Get ready to give in to your pizza craving because Pizza Hut is launching a new offer that will give you more reasons to enjoy your favorite pizza flavors and more. Introducing the Pizza Hut Hot Deals 1+1 promo! Starting from P529, you can get not one but two Large Pan Pizzas to ramp up your bonding moments.
Pizza Hut – Hot Deals 1+1 Promo
May 18 – November 18, 2021
Pizza Hut
[addcalendar]
Join our Telegram Community

How to Order:
1. Order Online via – https://www.pizzahut.com.ph/home
2. Order via the Hotline – 8911-1111
3. Download the Pizza Hut App
– Promo is Exclusive for take-out and delivery in all Pizza Hut branches
– List of Pizza Hut Branches – https://www.pizzahut.com.ph/store-list
Panalo options:
– Hawaiian
– Pepperoni & Mushroom
– Cheesy Garlic
– BBQ Ham
Pizza Hut is also giving you the option to upgrade to your favorite Pan Pizza flavors for up to two of your pizzas, as long as they're different flavors. Rediscover your love for Veggie Lovers, Cheese Lovers, and Pepperoni Lovers by adding P75 per pizza!
Go for your supreme favorites by adding P100 per pizza for Supreme, Hawaiian Supreme, Bacon Cheeseburger, Bacon Margherita, Bacon Supreme, and Cheese Supreme! Or, go all out with Super Supreme, Chicken Supreme, and Meat Lovers for only P150 per pizza!
Additional Sides:
– 2 Crispy Fries for P129
– 2 Single Spaghetti Bolognese for P199
– 1 Family Spaghetti Bolognese for P249
– 1 Family Spaghetti Carbonara for P299
– 4 servings of Mushroom Soup for P140
– 4 12oz servings of refreshing Lemonade for P149
– 4 12oz servings of ice-cold Pepsi for P99
[addfooter]