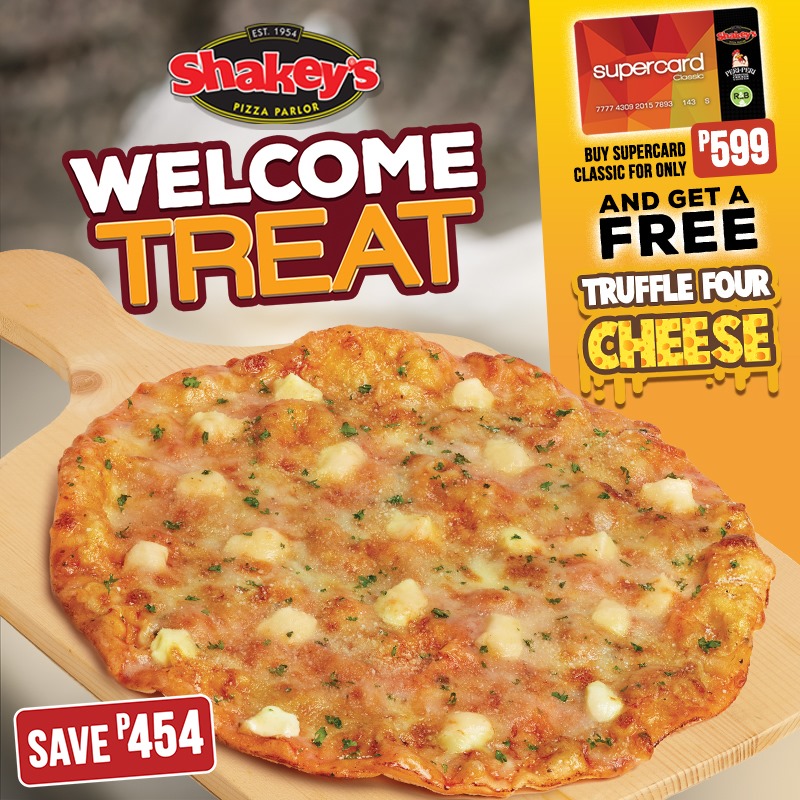 Say CHEESE and try the NEWEST SHAKEY'S PIZZA! Get a FREE large Thin Crust Truffle Four Cheese pizza when you purchase a Shakey's Supercard Classic or Gold! Save up to P454 with this WELCOME TREAT! ​
Shakey's – Welcome Treat
April 24 to June 30, 2021
Shakey's Branches
[addcalendar]
Join our Telegram Community

PROMO MECHANICS:
1. SUPER TREAT- WELCOME PIZZA
– Get a FREE Large thin crust TRUFFLE FOUR CHEESE PIZZA WELCOME TREAT for every Supercard Classic or Gold purchase via Dine-in, Carryout and Delivery.
– Guest should register their Supercard first via WEB or SMS to avail of the Welcome Treat. Register here- bit.ly/scREG
– Offer is valid from April 24 to June 30, 2021 only.
– Guest may upgrade the crust and/or flavour of his/her FREE large thin Classic Truffle Four Cheese Pizza by adding P150
– The offer cannot be used with other discounts, privileges are not exchangeable for or convertible to cash, credit or goods and services. The general terms and conditions of Shakey's apply. Cardholders with mandatory and government regulated discounts, apart from the Senior Citizen discount, have the option to choose which promo or discount to apply.
– In the purchase of goods and services which are on promotional discount, the senior citizen can avail the of the promotional discount or the discount provided under the Expanded Senior Citizens, act of 2010, whichever is higher.
2. BUY 1 TAKE 1 PIZZA OPTION
– Guest may avail the Supercard-exclusive Buy 1 Take 1 pizza benefit and choose the NEW Truffle Four Cheese as the FREE PIZZA.
– Offer is valid to all ACTIVE Supercard Holders only.
– Buy 1 Take 1 pizza benefit is available for regular, large and party size pizza with a purchase of a 500ML bottle of Coke for Regular pizza and a purchase of 1.5L bottle of Coke for Large and Party pizzas.
– Offer will start from April 24, 2021 until June 30, 2021.
– Buy 1 Take 1 Pizza Supercard Benefit is valid via Delivery and Carryout only.
For more info, check https://www.shakeyspizza.ph/news/
[addfooter]