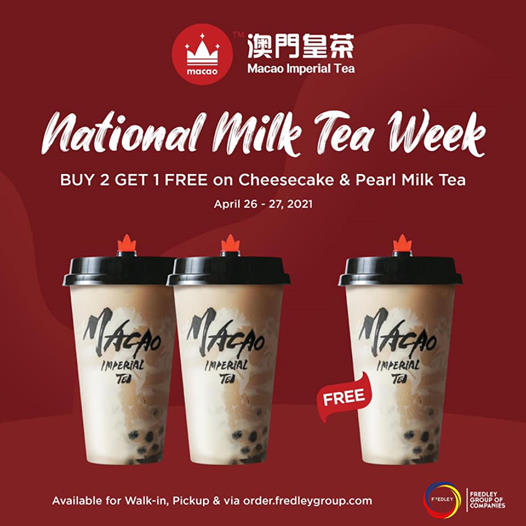 Celebrate National Milk Tea Week with Macao Imperial Tea Philippines and score the deal of your dreams! Buy 2 Get 1 FREE on the ultimate bestseller – Cheesecake & Peal Milk Tea from April 26 to 27, 2021.
Macao Imperial Tea – National Milk Tea Week Promo
April 26-27, 2021
Macao Imperial Tea Branches
[addcalendar]
Join our Telegram Community

– Now available across all stores nationwide‼️
Promo Mechanics:
1. Buy two alto-sized Cheesecake & Pearl Milk Tea and get one alto-sized Cheesecake & Pearl Milk Tea for FREE.
2. Promo duration will be from April 26 to 27, 2021 only.
3. Customers can only buy a maximum of 5 orders. If the guest exceeds the limit, they must fall in line again.
4. NOT VALID in conjunction with other promotions, offers, and discounts, including Senior Citizen discounts and PWD discounts.
5. Promo is valid for the whole day of the said dates.
6. Available for WALK-IN, PICKUP and E-STORE (order.fredleygroup.com) transactions only.
7. The use of Macao Gift Certificate is allowed for this promo.
8. Available in all Macao Imperial Tea stores.
[addfooter]