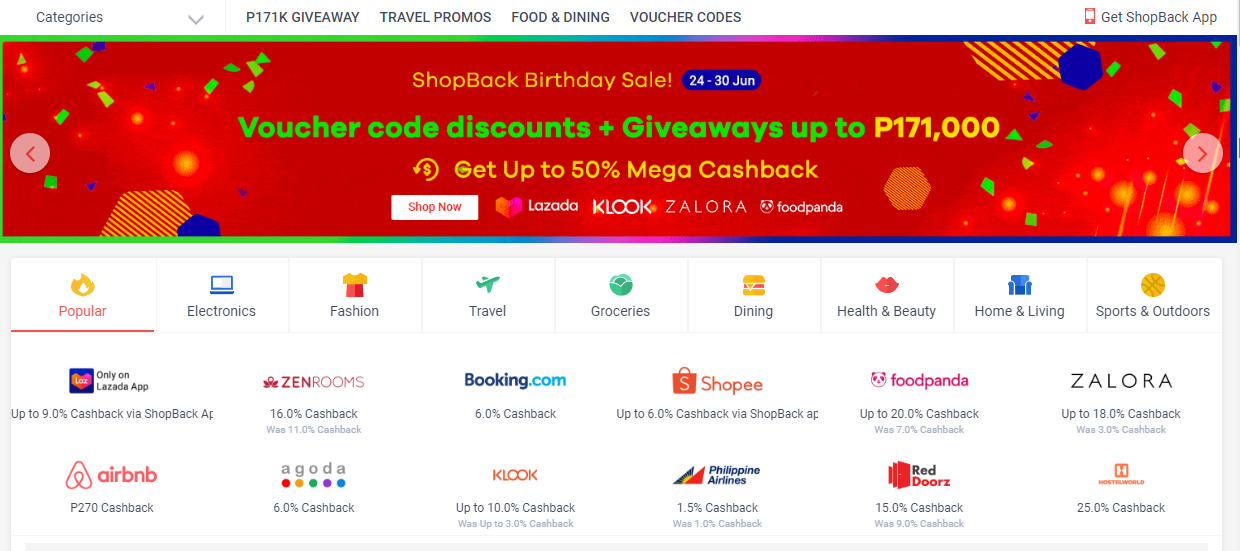 Shop AND Earn Back Your Money through ShopBack!
Doing online transactions has created a huge impact in the day-to-day life of every Filipino in this modern techie world due to its convenience – be it shopping online through Shopee, Lazada, Zalora, etc. or booking hotels/trips through apps like Agoda, Klook, AirBnB, etc. Now what if I told you, you could actually earn some of that money back when you spend money on a new gadget or hotel booking?
Shopback is a cashback site that pays you to shop with over 500 partnered merchants. Founded in 2014, it has since established its online presence in Asia (Singapore, Philippines, Indonesia, Thailand, Malaysia, Taiwan, and Australia). The concept is all about giving you cashback rewards for your online shopping and on top of the cashback/s, you get other deals, exclusive voucher codes, and discounts within the platform.
What is Cashback? Baka scam yan!
Cashback is real cash that you get every time you make a purchase through ShopBack. You can withdraw this via Bank Transfer, GCash, or Paypal (it can only be transferred to your preferred bank and/or digital account). These are not points, but hard-earned money for smart shoppers like you!
How does it work?
Shopback is affiliated with merchants and these merchants reward them with a commission for referring you to shop on their site. Shopback then shares to us a portion of that commission. When you make a purchase at one of their merchant stores (such as Zalora, Airbnb, Lazada) where there is, for example, an offer of "6% cashback", it means that they will reward with 5% of whatever you purchase on that merchant store. This cashback will be credited to your ShopBack account (after the time stipulated in the merchant's Terms and Conditions), which can then be paid or 'withdrawn' to your bank account as and when you choose.
For more information on ShopBack.ph please visit https://www.shopback.ph/how-it-works
How to use Shopback?
1. Visit http://bit.ly/2J5PTGv to sign up as a new ShopBack user.
2. You will be required to key in your Facebook account email and/or personal email address plus your basic information (User Name + Mobile Number) to successfully create an account. Once the account has been activated, you will be able to choose and shop from any of the ShopBack partner e-stores.
3. Click on any partner e-stores (e.g. FoodPanda) and read the terms and conditions before pressing "Shop Now".
4. After clicking "Shop Now", you will be redirected to the partner e-store's website and/or app.
5. You can already order and/or shop on the chosen partner store and get cashback for each and every successful transaction.
6. After the transaction/s has been made, you will receive a confirmation email tracking the cashback summary.
7. To withdraw, click on the "CashBack Overview" and press "Start Withdrawal Now" button.
8. You can opt to transfer your cashback to any of the partner banks and/or digital wallets onsite. Cashback will be transferred and processed within 7 to 14 days.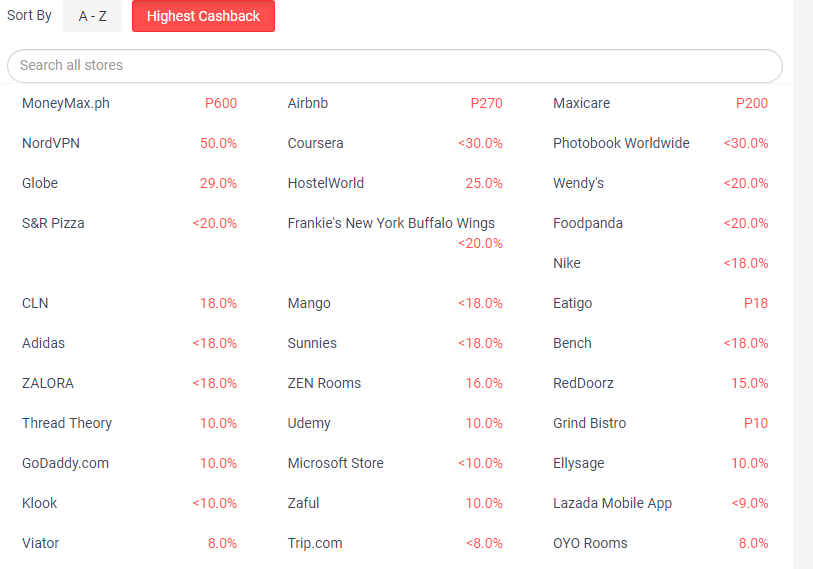 And there you have it – a step-by-step tutorial on shopping online and getting some of your money back! Online shopping has never been this rewarding, right? So what are you waiting for– give it a go now through signing up for an account by clicking this link: http://bit.ly/2J5PTGv
ShopBack is available on Desktop, Mobile App, and Chrome Extension.
BOTTOMLINE: SHOPBACK WILL GIVE YOU BACK A PORTION OF YOUR MONEY SPENT ON LAZADA, AGODA, AIRBNB, SHOPEE, ZALORA WHEN YOU CREATE AN ACCOUNT WITH SHOPBACK. HERE'S PHP100 FROM MANILA ON SALE WHEN YOU SIGN UP IN THIS LINK: http://bit.ly/2J5PTGv
Get Updates via Email – CLICK HERE
Here's Php100 for you when you shop/book at Lazada, Agoda, airbnb, Zalora, etc: http://bit.ly/2J5PTGv
https://www.facebook.com/manilaonsale
https://www.twitter.com/manilaonsale
https://www.instagram.com/manilaonsaleph
Like This Post? Share it with your friends!