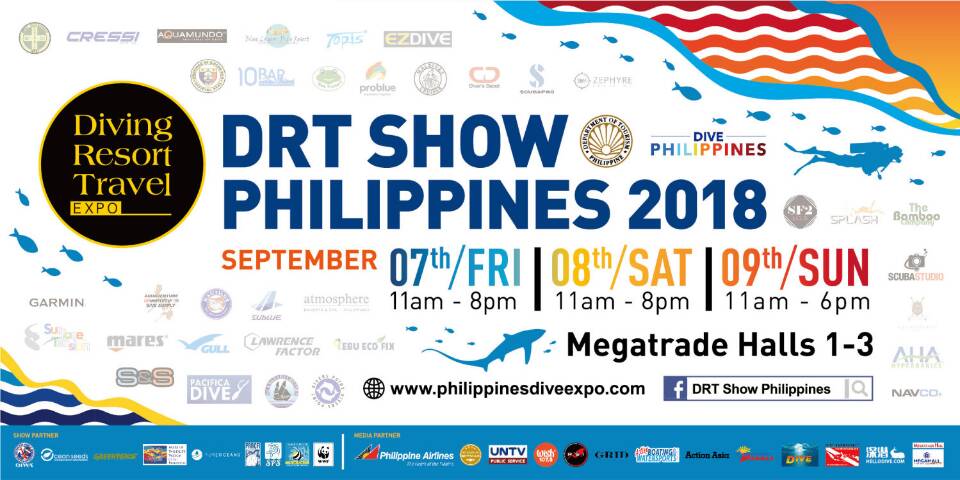 Diving Resort Travel Expo September 2018
September 7-9, 2018
SM Megamall Megatrade Hall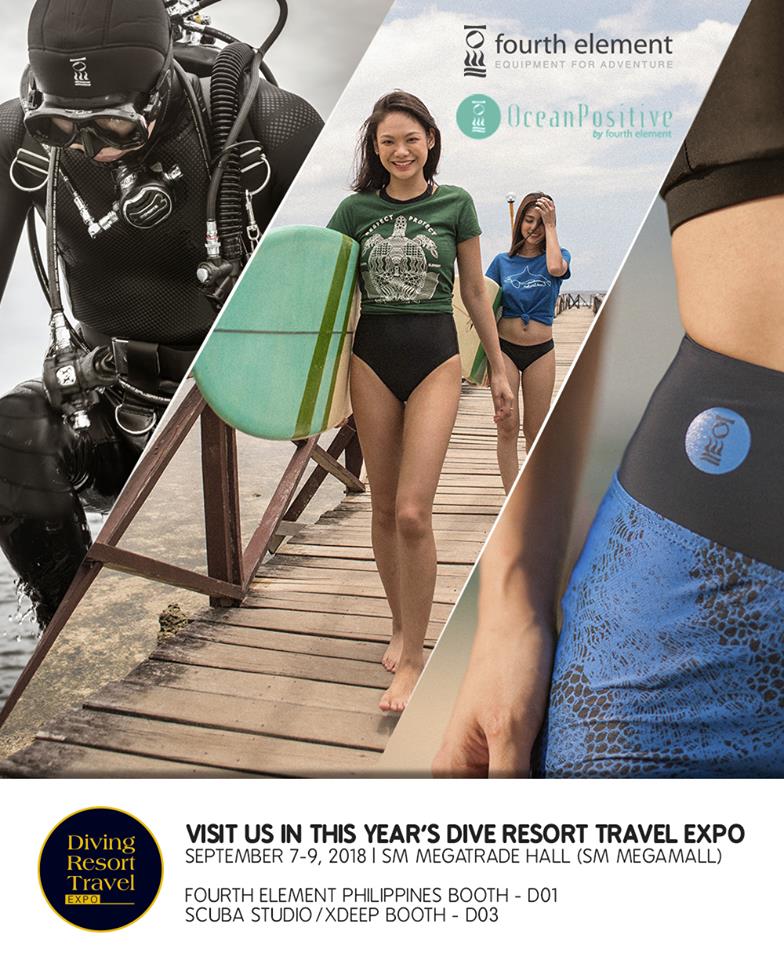 DRT SHOW (Diving, Resort and Travel Show) is back!!! Are you ready to join the largest Diving Expo?
What can you do at DRT Show Philippines?
● Attending Seminars ●
Stay tuned and keep following us, more professional speakers are waiting for you!
Speaker List:
◎ Freediving
Mr. Edwin Castillon (Philippines)
Mr. Jean-Pol FRANCOIS (JP) (Belgium)
◎ Technical Diving
Mr. Alex Santos (Philippines)
Mr. Juan Naval (Philippines)
Mr. Ram Yoro (Philippines)
◎ Underwater Photography
Mr. Bo Mancao (Philippines)
Ms. Ipah Uid (Malaysia)
Mr. Ivan Manzanares (Philippines)
Mr. Jerome Kim (Korea)
Mr. Ram Yoro (Philippines)
Mr. Scott Gutsy Tuason (Philippines)
Mr. Wayne Jones (Australia)
◎ Marine Conservation & Biology
Dr. AA Yaptinchay (Philippines)
Mr. AG Saño (Philippines)
Mr. Daniel Geary (USA)
Ms. Tara Abrina (Philippines)
● 100 Star UW Photo Gallery
100 amazing underwater photos will be exhibited during this event. The must voted photographer can win a prize home! Moreover, the voters can get a chance to win a prize, too!
● Be an Ocean Saver Project
Attending DRT SHOW and complete all challenges at NGOs booth to win an environmental-friendly souvenir home. Special thanks to Marine Wildlife Watch of the Philippines, Reef check Philippines, Save Philippine Seas, Greenpeace SEA – PH, WWF Philippines and Pure Oceans to join us!
● Art Attack by AG Saño
A.G. Saño is coming DRT SHOW to create another great piece of art work, and we sincerely invite every visitor to choose a color and draw with him!
● Diving Course Consultation
Haven't tried go diving before? Wanna get a diving certification? There're professional instructors from top-leading education systems.
● Booking Your Next Diving Adventure
No matter you're into staying at a diving resort, or exploring the underwater world by a liveaboard cruise trip, come and visit DRT SHOW for the special promo!
● Kids Zone
Bring your kids to paint, sing and play games with Philippine Reef and Rainforest Conservation Foundation Inc.(PRRCFI) at booth A20!
● Lucky Draw
What are the prizes for this year? Please keep following our page for updates!
————————————————————
● Admission Fee ●
◎ Original price: PHP200
◎ 50% off discount: PHP100
Certificated Divers (Must present the diving licence onsite)
◎ Free-entry for children, students and 60+ elderly
Get Updates via Email – CLICK HERE
https://www.facebook.com/manilaonsale
https://www.twitter.com/manilaonsale
https://www.instagram.com/manilaonsaleph
Like This Post? Share it with your friends!