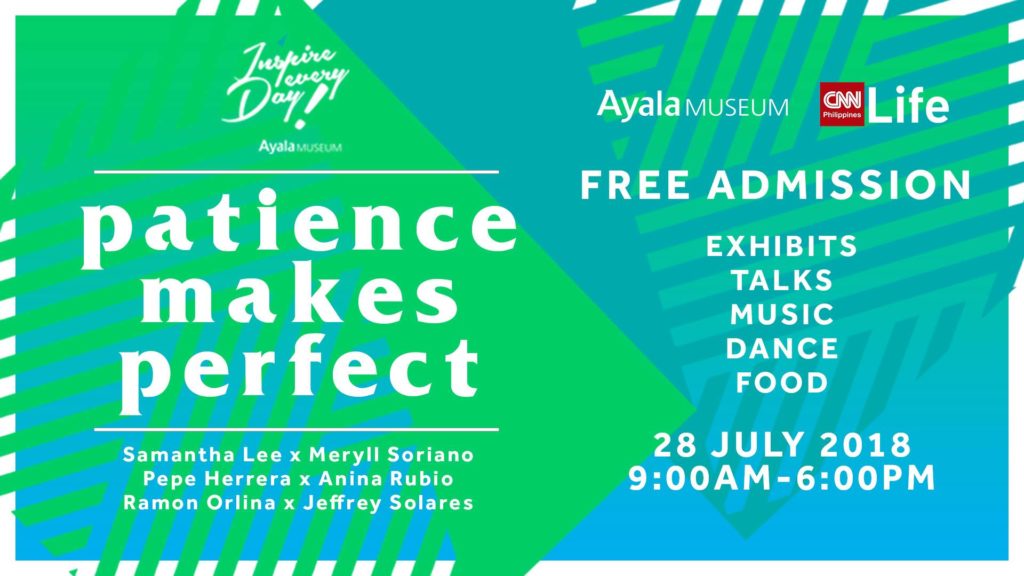 Ayala Museum and CNN Philippines Life present INSPIRE EVERY DAY 2018 happening on July 28. FREE ADMISSION TO ALL GALLERIES and Events.
Inspire Every Day @ Ayala Museum
July 28, 2018 @ 9AM-6PM
Ayala Museum
FREE ADMISSION
With today's world moving at a faster pace, Inspire Every Day 2018 is all about patience. Armed with our tagline "Patience Makes Perfect", we're showing that patience is still indeed a virtue; patience in relation to the pursuit of our craft, patience with ourselves, and patience in our quest to know who we are and where we are going.
On Saturday, July 28, we're zeroing-in on the idea that real growth takes patience. With pocket events and talks from creatives that took time to get to where they are now, we're showing that everyone grows at their own pace.
Guests get to enjoy our permanent exhibitions as well as our current changing exhibitions: Hidden Cinema: 100 Years of Philippine Cinema, Bamboo Road, and HISTORIA: Stories of Art.
Speakers:
Samantha Lee x Meryll Soriano – 11:30AM
Pepe Herrera x Anina Rubio – 1:30PM
Ramon Orlina x Jeffrey Solares – 4:30PM
Performances by:
Manila Symphony Junior Orchestra and CENTEX Dancers
Get Updates – CLICK HERE
https://www.facebook.com/manilaonsale
https://www.twitter.com/manilaonsale
https://www.instagram.com/manilaonsaleph
Like This Post? Share it with your friends!