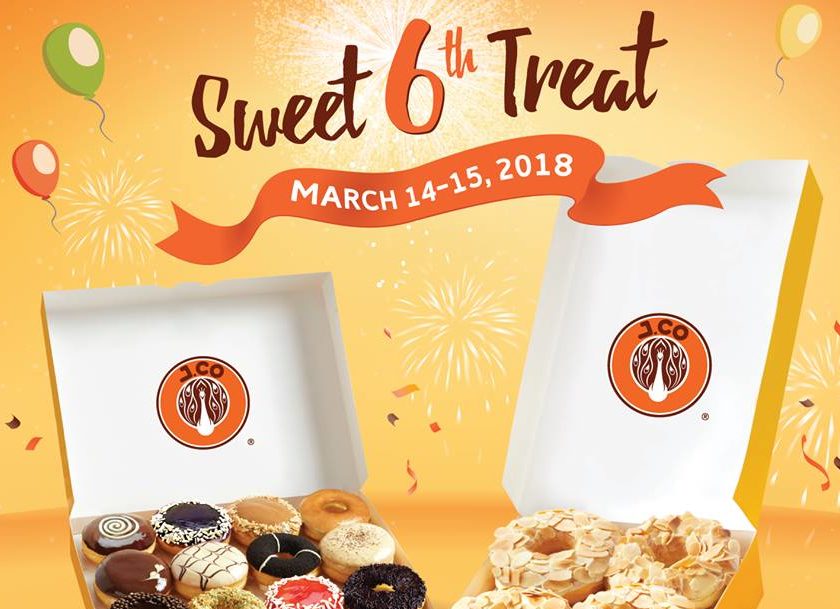 J.CO Donuts Sweet 6th Treat
March 14-15, 2018
Participating J.CO Stores
6 is the tastiest number, and for a good reason! As J.CO celebrates their 6th Anniversary in the Philippines, here is their fantastic #JCOSweet6thTreat!
Terms and Conditions:
1. Get half dozen of Alcapone donuts when you purchase 2 dozens of donuts for only 650php.
2. One (1) pre-assorted dozen consists of 1 pc Copa Banana, 1 pc Katy Berry, 1 pc Choco Caviar Chocolate, 1 pc Mr. Green T., 1 pc Why Nut, 1 pc Oreology, 1 pc Meisisipi, 1 pc Glazzy, 1 pc Berry Spears, 1 pc Blueberry more, 1 pc Don Mochino and 1 pc Jcoccino.
3. The other dozen will be donuts of your choice. Only the following donut variants are available in the selection: Alcapone, Tiramisu, Oreology, Cheesecakelicious, Avocado Di Caprio, Jacky Chunk, Choco Caviar Strawberry, Green Tease and Coco Loco.
4. A maximum of 2 dozens per customer in a single transaction is allowed
5. This promo is valid for dine in and take out transactions. Any advanced orders or bulk orders on the days of the promo will not be allowed.
6. Promo duration is from March 14 to 15, 2018, 10am to 2pm only.
7. This promo can be availed in all J.CO stores nationwide except kiosks and booths.
8. The promo cannot be exchanged for other items or discounts and cannot be used in conjunction with other promos. In the purchase of goods and services which are on promotional discount, the senior citizen can avail of the promotional discount or the discount provided under the Expanded Senior Citizens Act of 2010, whichever is higher. In compliance to, Section 4 of R.A. 9994, otherwise known as the Expanded Senior Citizens Act of 2010.
Per DTI-FTEB Permit No. 2959 Series of 2018.
https://www.facebook.com/manilaonsale
https://www.twitter.com/manilaonsale
https://www.instagram.com/manilaonsaleph
Like This Post? Share it with your friends!
Comments
comments