Halloween doesn't have to be terrifying; so don't focus on spending Hallow's Eve scaring yourself at home with a horror movie marathon because this annual event can be more filled with treats than tricks– that is if you know where to go!
Malls, hotels, restaurants, and even villages celebrate this occasion by going all-out with their production design and coming up with shenanigans to attract people and give them treats as a reward for attending their place in full-on costume. It'll truly be a sight to behold as children merrily venture around and parents relish the joy of their young ones while having fun themselves!
It's going a busy and festive day for most cities and if you don't know any event to go to this Halloween, here's a list that might help you: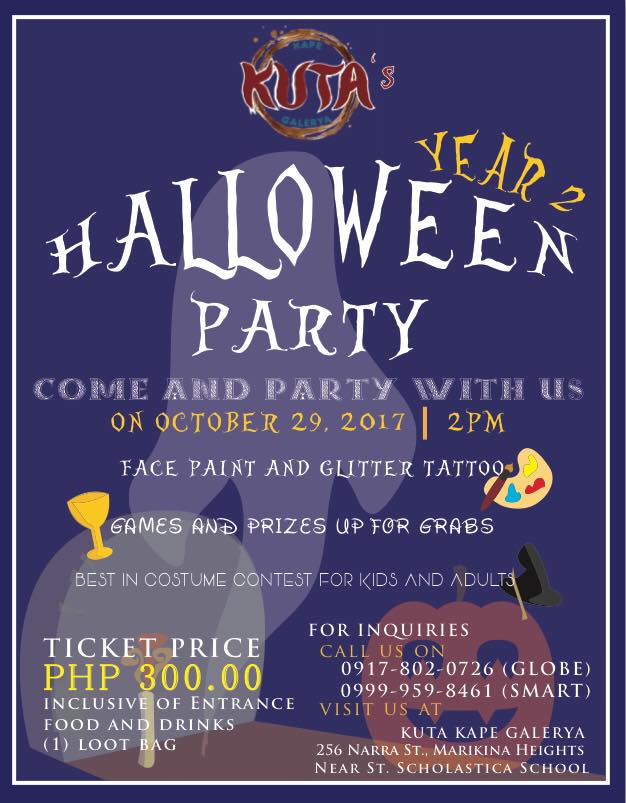 1. KUTA Halloween Party Year 2
Join our Telegram Community

Date/Time: October 29, 2017 / 2:00 – 4:00 PM
Where: 256 Narra St, Marikina Heights, Marikina City
Hosted by Kuta Kape Galerya, a Spanish-Filipino café in Marikina City, parents might want to consider bringing their children here because, for only PHP 300.00, they get to join face painting and glitter tattoo making activities inclusive of one (1) loot bag and food and drinks. There will also be special prizes for parents and children with the best costume.
If you live near Marikina, this is definitely worth your bucks.
Event link: https://www.facebook.com/events/936261639837761/?active_tab=about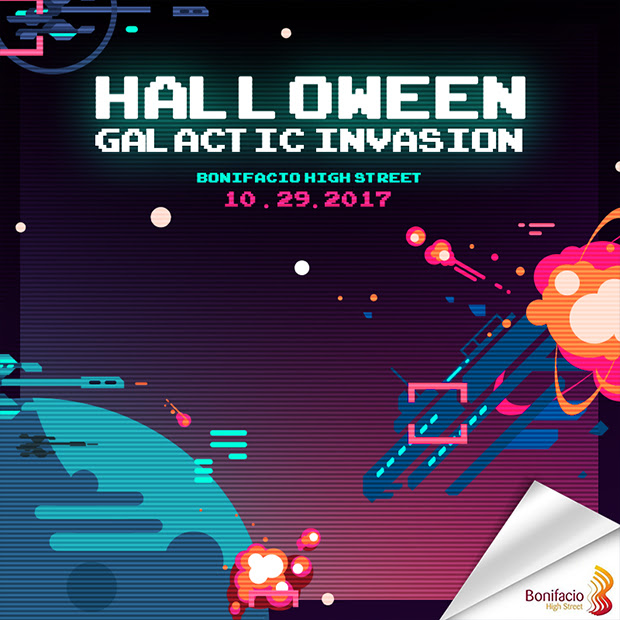 2. Bonifacio Global City
Date/Time: October 29, 2017 / 4:00 PM onwards
Where: Lane O, Taguig, 1634 Metro Manila
With the event practically free, you just have to go to Bonifacio High Street in front of Krispy Kreme by 4 PM and fun activities will await such as face painting, art and science activities + workshops, and a quiz night. This area is, indeed, very family friendly because after finishing the enjoyable program, there are a lot of restaurants around that you can go to.
Also, if you manage to spend a minimum of PHP 2,000.00, you get can a special Halloween loot bag from the Bonifacio Global City team. The receipt must come from any stores at High Street, One Parkade, and Two Parkade at the same day.
Registration Link: https://docs.google.com/forms/d/e/1FAIpQLSc-UcbLvw0NRDnS93vMB5vQtEbuRZ7d6xhMgQwRY_komlQ_lg/viewform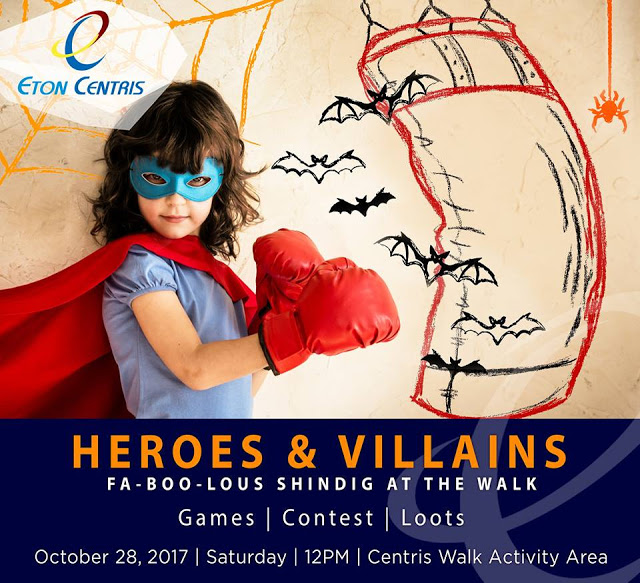 3. Heroes and Villains: FA-BOO-LOUS SHINDIG AT THE WALK
Date/Time: October 28, 2017/ 12:00 NN onwards
WHERE: Activity Area, Eton Centris, Diliman, Quezon City, Metro Manila
Halloween is also about meeting new friends and, in Eton Centris, children can dress up as heroes or villains and have their own shindig. There will be numerous games and contests for them to participate in and they will also be given a loot bag as thanks for going. There's just one catch: you must have at least PHP 500.00 single/accumulated receipt/s from Eton Centris starting from October 23 to 28.
If you're around Quezon City, this is a great Halloween event!
Information Link: https://www.facebook.com/CentrisOfficial/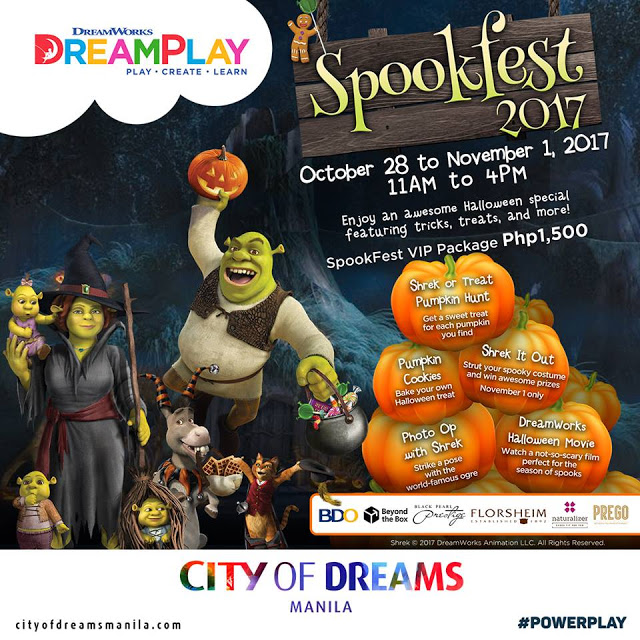 4. Spookfest 2017
Date/Time: October 28 – November 1, 2017/ 11:00 AM onwards
Where: Aseana Avenue corner Macapagal Ave., Entertainment City, Roxas Blvd, Paranaque, Parañaque, 1700 Metro Manila
This may be a bit pricey as the entrance fee per person costs PHP 1,500.00, but the deal is absolutely worth it. Located in the beautiful City of Dreams, there are many program in-line for the children to do: pumpkin hunting (the more pumpkin you find, the better treats you'll get), bake-your-own-pumpkin-cookies, photo booths, costume competition, and movie screening.
With all the happenings in Spookfest 2017, I'm sure it's truly a value-for-money, especially the enjoyment it will bring to your kid.
Event Link: https://www.facebook.com/events/163712440879624/?active_tab=about

5. Monsterrific Weekend
Date/Time: October 28 – 29, 2017/ 2:00 PM onwards
Where: 5/F Events Center, Century City Mall, Century City, Kalayaan Ave. cor. Salamanca St., Brgy. Poblacion, Makati, 1210
This mall event is free-for-all. If you plan on eating somewhere fancy in Century City Mall with your family, you might want to drop by here and let your children join the event. There will be a fashion show, games/contests, trick-or-treat sessions, painting sessions, and a magic show by Joe Conrad!
For something that's free, Monsterrific Weekend is jam-packed with events. Just keep watch of their announcement on Facebook to see the program schedule.
Event Link: https://www.facebook.com/events/1897777890549131/?active_tab=about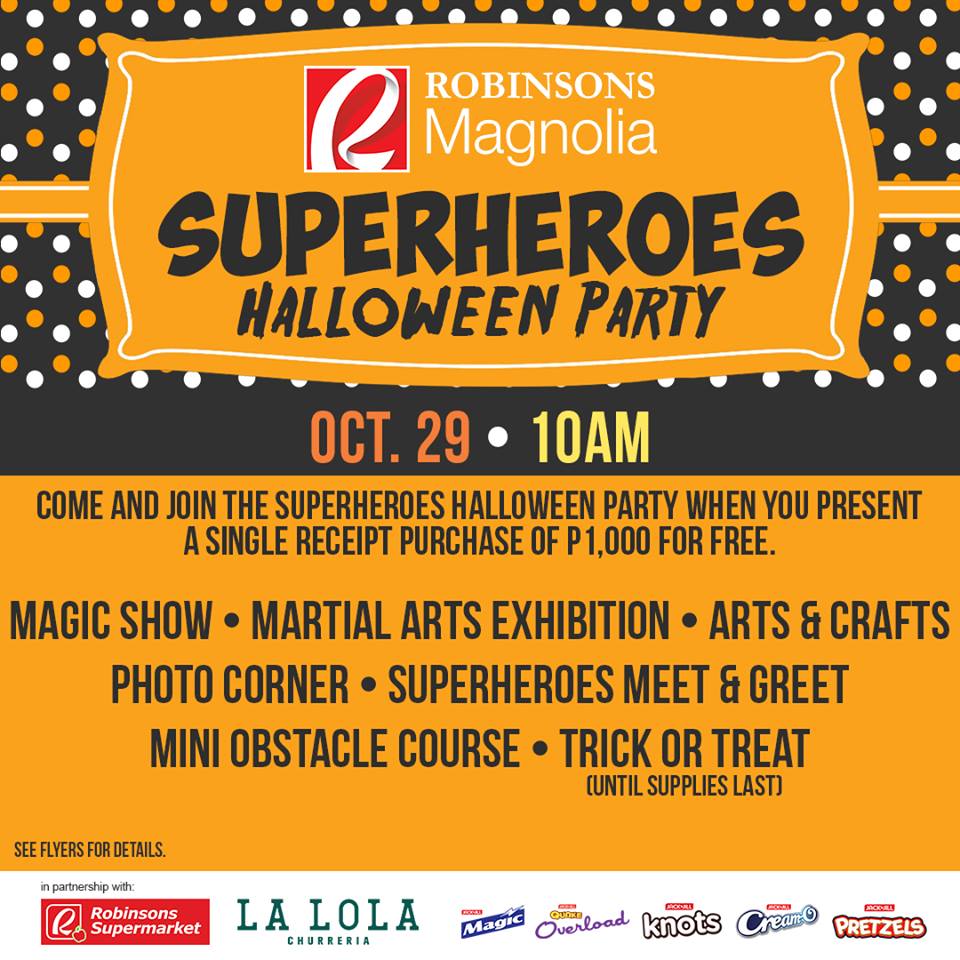 6. Robinsons Malls Halloween Celebration
Date/Time: October 29, 2017/ 10:00 AM onwards
Where: All Robinsons branches
Are you near any Robinsons Mall? You're in luck because all branches are going to have a Halloween Celebration! Of course, every branch will have different look, but majority of them have the same program: there will be photobooths, games and activities, costume contests, and a Trick-or-Treat Parade until supplies last!
So be there early to get freebies or else the stocks may run out! Just note, though, that some branches require a minimum of PHP 500.00 receipt for your child to enter the activity area.
Event Link: https://www.facebook.com/pg/RobinsonsMalls/photos/?tab=album&album_id=10155836659895762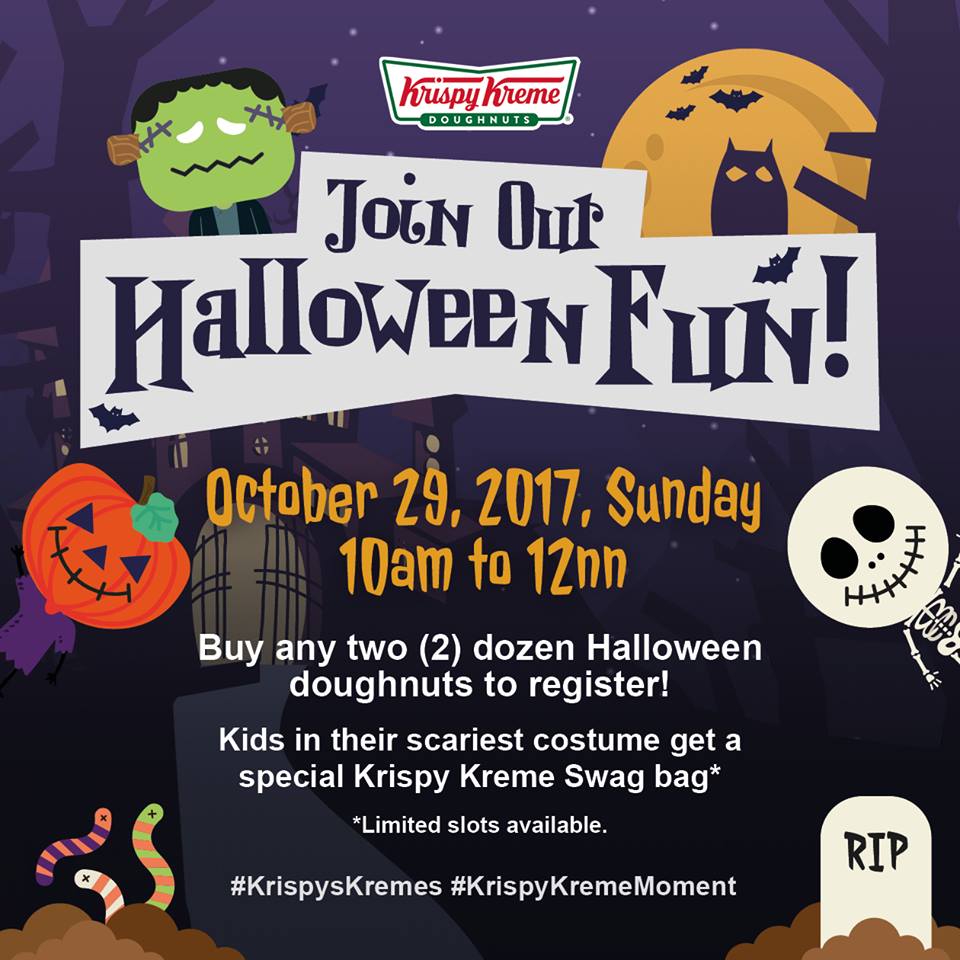 7. Halloween Fun #KrispyKremeMovement
It's not just the malls/restaurants who have prepared an event for Halloween go-ers, but the classic doughnut shop, Krispy Kreme, decided to ride the bandwagon, too! As part of their Halloween #KrispyKremeMovement, they will be hosting a program in their Bonifacio High Street branch wherein they've prepared numerous activities lined-up for participants plus a limited edition bag giveaway for the kid with the best costume.
The catch here is that to get a pass to their event, you have to buy two dozen of doughnuts. You can also get another pass for free if you purchase a third box. In total, that would be around PHP 1,000.00 pesos and you won't even feel it because the #KrispyKremeMovement would be fun-filled and you have three dozen of doughnuts to enjoy with your family.
Event Link: https://www.facebook.com/krispykremeph/posts/1725021450844341
Sounds fun, right? If you haven't been to any Halloween events, 2017 should be the year for you to try going to one (or two–we won't judge!). Just don't forget to come in with your best attire and enjoy the Halloween spirit with you and your family.
Share this article and tell us where you're going to go!
https://www.facebook.com/manilaonsale
https://www.twitter.com/manilaonsale
Like This Post? Share it with your friends!
Join our Viber Community!