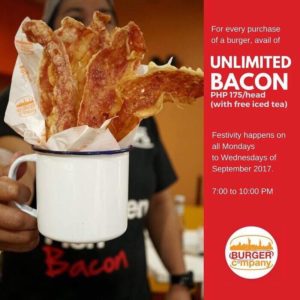 Food Promo: Unli Bacon at Burger Company QC!
Mondays to Wednesdays of September 2017
Mother Ignacia, Quezon City
Who doesn't love burgers and bacon? Enjoy both delectable comfort food at Burger Company in Quezon City. All Mondays to Wednesdays this September, you can also enjoy UNLI BACON!!!
Mechanics:
-Order a Burger
-Avail of Unli Bacon P175
-Sign a waiver
-Free Iced Tea
-2 Hour Time Limit
-3 pieces initial then choose if 3 or 6 after
-Baconeer's Guild for 6 or more
-Burger has to be finished while at the restaurant
-No sharing (who shares bacon?!? Mine!mine!mine!)
-Leftovers will be charged
https://www.facebook.com/manilaonsale
https://www.twitter.com/manilaonsale
Like This Post? Share it with your friends!